06-2023 – TVS SIMOS 19 STAGE 2+ ECU SOFTWARE RELEASE (UPGRADED HARDWARE)
TVS is excited to officially release our Stage 2+ ECU tunes covering upgraded hardware for the latest MQB EVO models equipped with 2.0T EA888.4 as found in the Golf Mk8 R, Audi S3 8Y and Cupra Formentor.
After half a year extensive testing a wide range of upgraded hardware in-house and through our worldwide dealer network TVS developed a perfectly balanced 450HP package to ensure maximum performance and drivability without sacrificing reliability. We basically cover most available upgraded hardware, but 450HP bolt-on packages are available as well at TVS Engineering. Not sure if your vehicle is supported or having any questions about already outfitted hardware? Feel free to reach out to us.
𝗧𝗩𝗦 𝗦𝗧𝗔𝗚𝗘 𝟮+ | 𝟰𝟱𝟬𝗛𝗣 / 𝟲𝟬𝟬𝗡𝗠

Delivers up to 450HP & 600Nm on RON98

Different fuel qualities supported

Suits various hardware setups

Custom software features free included
𝗪𝗵𝗮𝘁'𝘀 𝗻𝗲𝘅𝘁?
We are currently working on a user friendly solution for flashing the DQ381 Gen2 transmissions of vehicles produced after 2022. Due to a new type of bootloader there are additional TCU protections that need to be bypassed for models produced from about 2022. So far we know there is no one capable of flashing those yet, but we as DSG pioneer can claim we already succesfully flashed a few and will make this available for our customers shortly. Meanwhile FlexFuel solutions and Stage 3 tunes are in development. Stay tuned!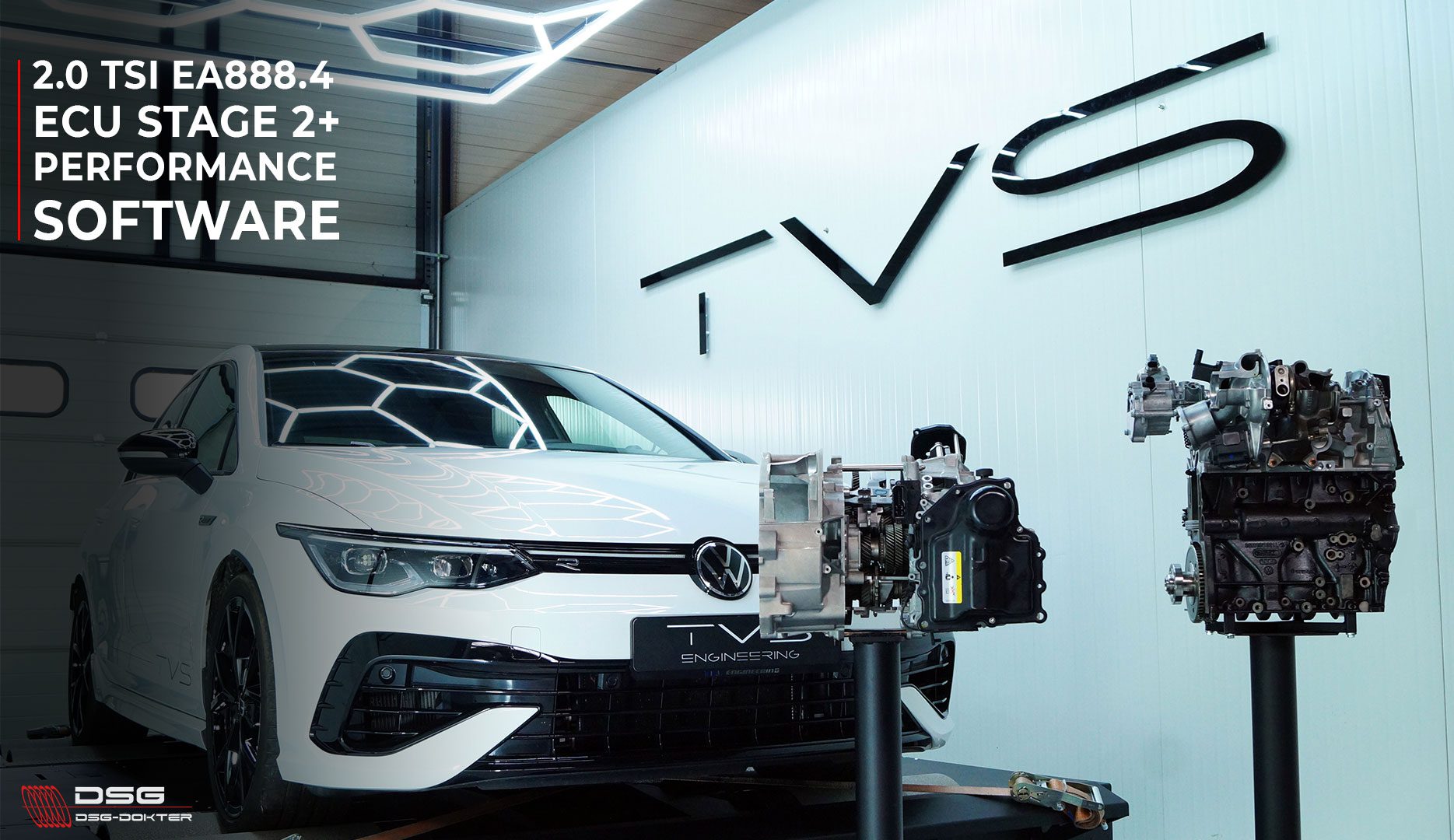 11-2022 – TVS SIMOS 19 SOFTWARE RELEASE (STOCK HARDWARE)
TVS Engineering is happy to announce the first release of TVS SIMOS19 ECU software stages for the latest MQB EVO models equipped with 2.0T EA888.4 as found in the Golf Mk8 R, Audi S3 8Y and Cupra Formentor.
After months of research and development, verifying data and further perfecting our tunes, we are confident that we achieved maximum performance and drivability without sacrificing reliability. In the coming weeks we will publish street results and start sharing technical information to show how TVS safely managed to achieve these stunning results!
– 𝗧𝗩𝗦 𝗦𝗧𝗔𝗚𝗘 𝟭 𝗘𝗖𝗢 – 𝟯𝟵𝟬𝗛𝗣 / 𝟱𝟬𝟬𝗡𝗠

RON95 E10

Full stock hardware

Flash & Go
– 𝗧𝗩𝗦 𝗦𝗧𝗔𝗚𝗘 𝟮 𝗘𝗩𝗢 – 𝟰𝟮𝟬𝗛𝗣 / 𝟱𝟲𝟬𝗡𝗠

RON98

Full stock hardware (!)

Features free included

Custom fine-tuned for every vehicle
𝗔𝘃𝗮𝗶𝗹𝗮𝗯𝗹𝗲 𝗳𝗲𝗮𝘁𝘂𝗿𝗲𝘀

Improved fuel efficiency

Enhanced temperature protection

Inverse start-stop (off by default)

Increased kW and Nm dash scaling

Stock/limited performance in ECO mode

Increased vehicle speed limiter (VMAX)

Motorsport (hard cut) rev limiter

Exhaust crackles / Pops & Bangs
𝗪𝗵𝗮𝘁'𝘀 𝗻𝗲𝘅𝘁?
While not officially released yet, TVS Stage 2+ ECU software for upgraded hardware is available as well. Currently we are testing and evaluating various hardware options in order to offer our customers the best possible upgrades available. FlexFuel and Stage 3 development are already in progress. Stay tuned!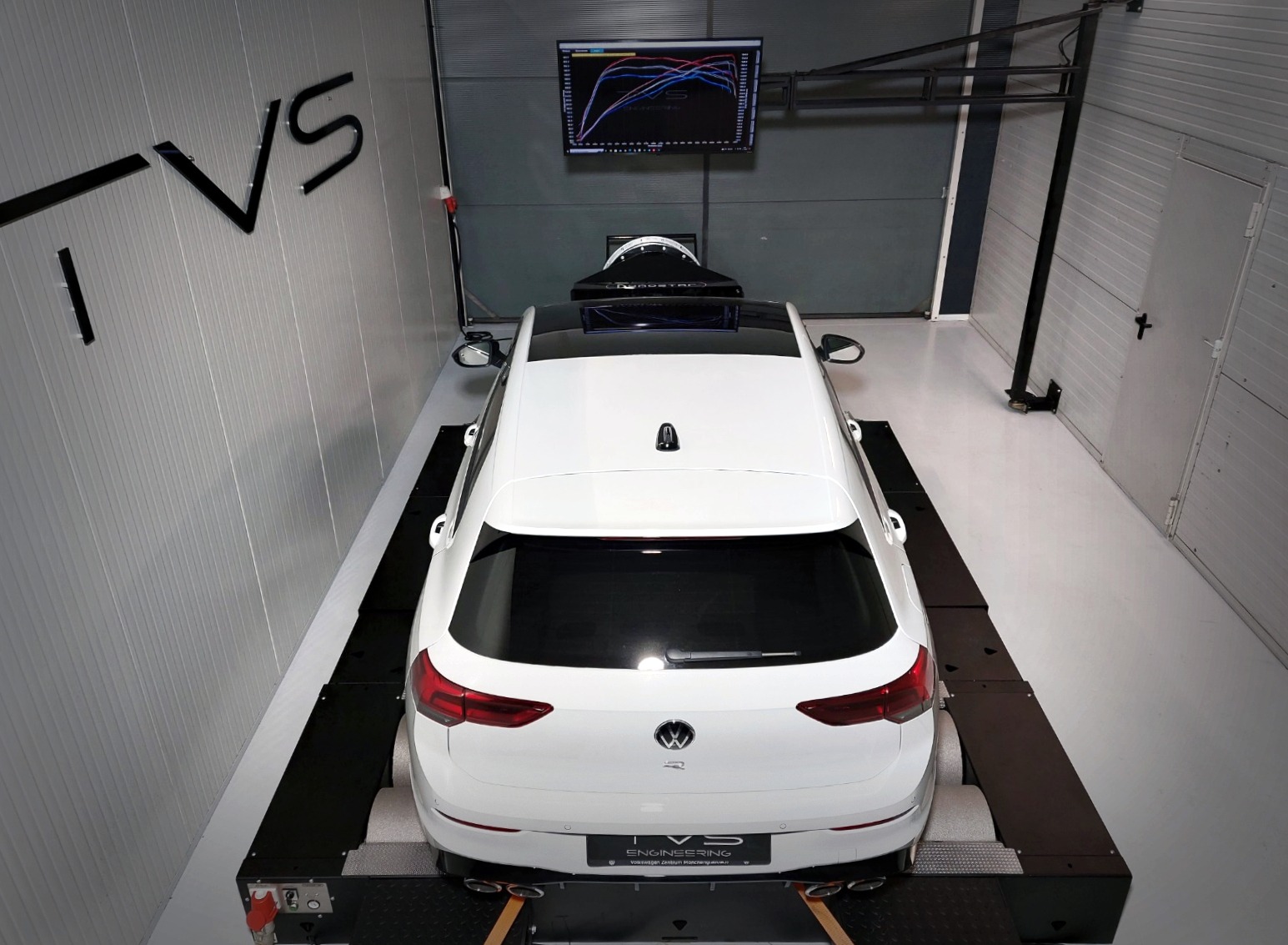 17-10-2022 – TVS SIMOS 19 DEVELOPMENT UPDATE
TVS Engineering is excited to announce that it is currently in the final stage of software development for the latest VAG models equipped with SIMOS19 ECU. While already having DQ381GEN2 software solutions for months, finally SIMOS19 tuning will be released soon as well.
Being at the forefront of VAG tuning for over a decade, and therefore having extensive calibration and reverse-engineering knowledge on the model based Siemens/Continental SIMOS software found in for example EA888.3 equipped vehicles, TVS had a solid foundation to start the SIMOS19 tuning development.
To start the development of any vehicle's new software enhancement it is critical to understand the calibration environment, hardware, software and their respective limitations. While the 2.0TSI EA888.4 is a successor of the Gen3 engine, it has crucial differences like a new turbocharger and SIMOS19 engine control unit. Achieving more power can be done in hours, but actually delivering stable and reliable performance takes more development time.
Over the last months we gathered, analyzed and verified tons of data from comprehensive data logging equipment and external sensors on our own Golf 8R development vehicle, dealer promo vehicles and vehicles which already had the TVS DQ381GEN2 software enhancements.
Meanwhile the new 2.0TSI EA888.4 engine components were studied, SIMOS19 factory software was reversed engineered to actually understand its inner routines and base tunes were prepared. As soon as the SIMOS19 was unlocked our R&D department started real world validation.
Instantly satisfying results were achieved which closely matched our simulations and expectations. However, we at TVS made a well-considered decision to not rush the software release but continue gathering data instead. After verification of the beta software our R&D team made further modifications and improvements. Additional safety features were added over factory routines and endurance tests were developed to ensure maximum long-term performance.