EA888.4 MQB EVO TECH POST – Turbochargers
Lately, we at TVS, receive more and more questions about our tuning products and results for the new 2.0 TSI EA888.4 EVO platform like the VW Golf Mk 8R, Audi S3 8Y and Cupra Formentor. At TVS we believe that providing accurate and valuable information is important to show our followers and customer base how deep we've dived into this new platform.
In this tech post we will speak about the turbocharger units used for the 2.0TSI EA888.4 engines. The 245hp variants are equipped with a new Garrett MGT1754 turbocharger and the 280 – 320hp variants with a new Continental turbocharger.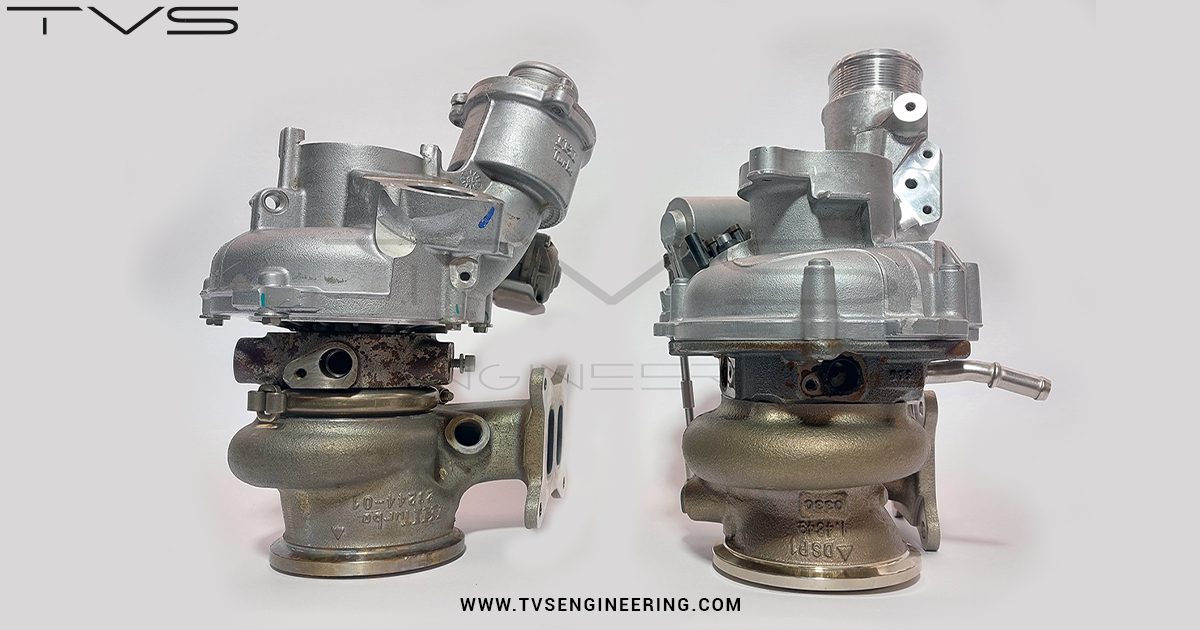 In the first stages of our development program we disassembled and performed in-depth analysis on a new Continental turbocharger unit to collect data and compare it to its predecessor, the IHI IS38. Below a short summary of the most significant differences looking at the new Continental turbocharger.
 IHI IS38 vs NEW EA888.4 CONTINENTAL TURBOCHARGER
▪️ Compressor side  –  Larger compressor wheel with increased flow capacity
  Increased compressor inducer and exducer
  Increased compressor wheel width
  Decreased compressor wheel trim
  More compressor wheel blades
▪️ Turbine side  –  Decreased turbine wheel with increased flow capacity!
  Decreased turbine inducer and exducer
  Decreased turbine wheel width
  Decreased turbine wheel trim
 More turbine wheel blades with renewed design
▪️ Turbo housing  –  Improved design for high power applications
 Increased turbine housing A/R
  Improved wastegate position
  External turbo bypass valve
  Turbo speed sensor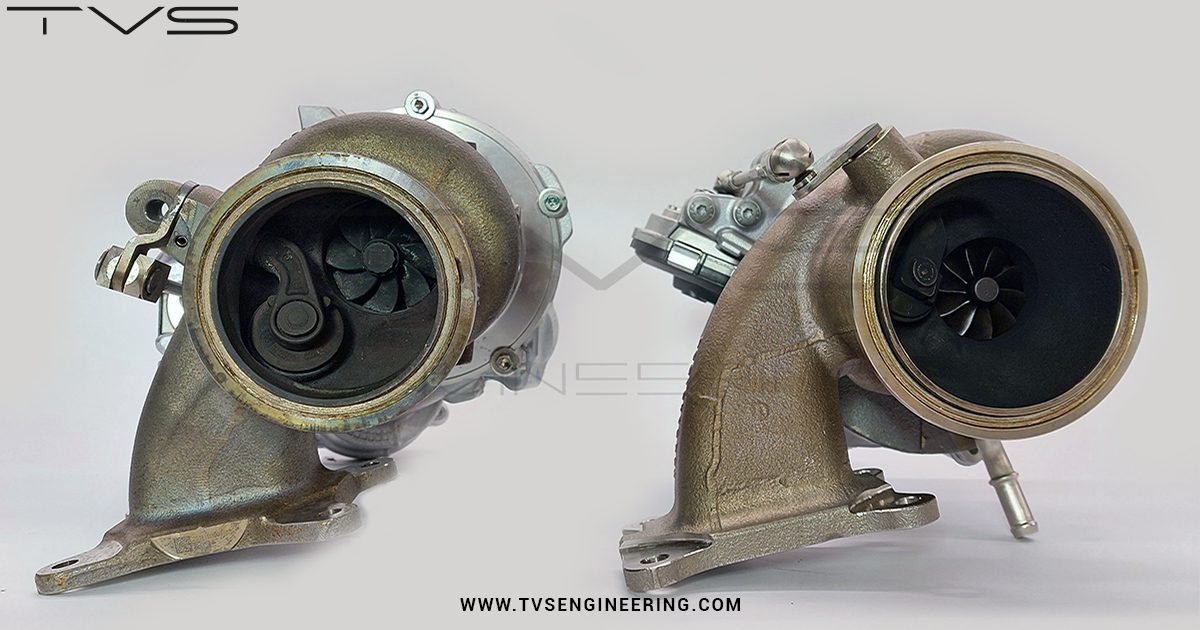 Based on the data and pictures above it is quite obvious why the new Continental Turbo is able to generate more airflow compared to its predecessor, the IHI IS38. The turbo housing design is further optimized with an even smoother air path and the compressor wheel is increased in size significantly.
However, in contrary to what is expected, the size of the turbine wheel is decreased. A closer look explains how the engineers at Continental managed to increase the turbine flow, while decreasing its size. This new Continental turbocharger is equipped with the new RAAX technology which basically allows a smoother exhaust gas flow over the turbine wheel. Instead of a rather sharp transition now the exhaust gasses enter the turbine at a smoother angle allowing an increase in exhaust air flow. This allows the turbine wheel to be reduced in size which decreases the turbine wheels inertia resulting into improved turbocharger response. The improved turbine wheel design together with the increased A/R of the turbine housing, increases the exhaust gas flow significantly. This increase in exhaust gas airflow has a positive effect on the maximum available power.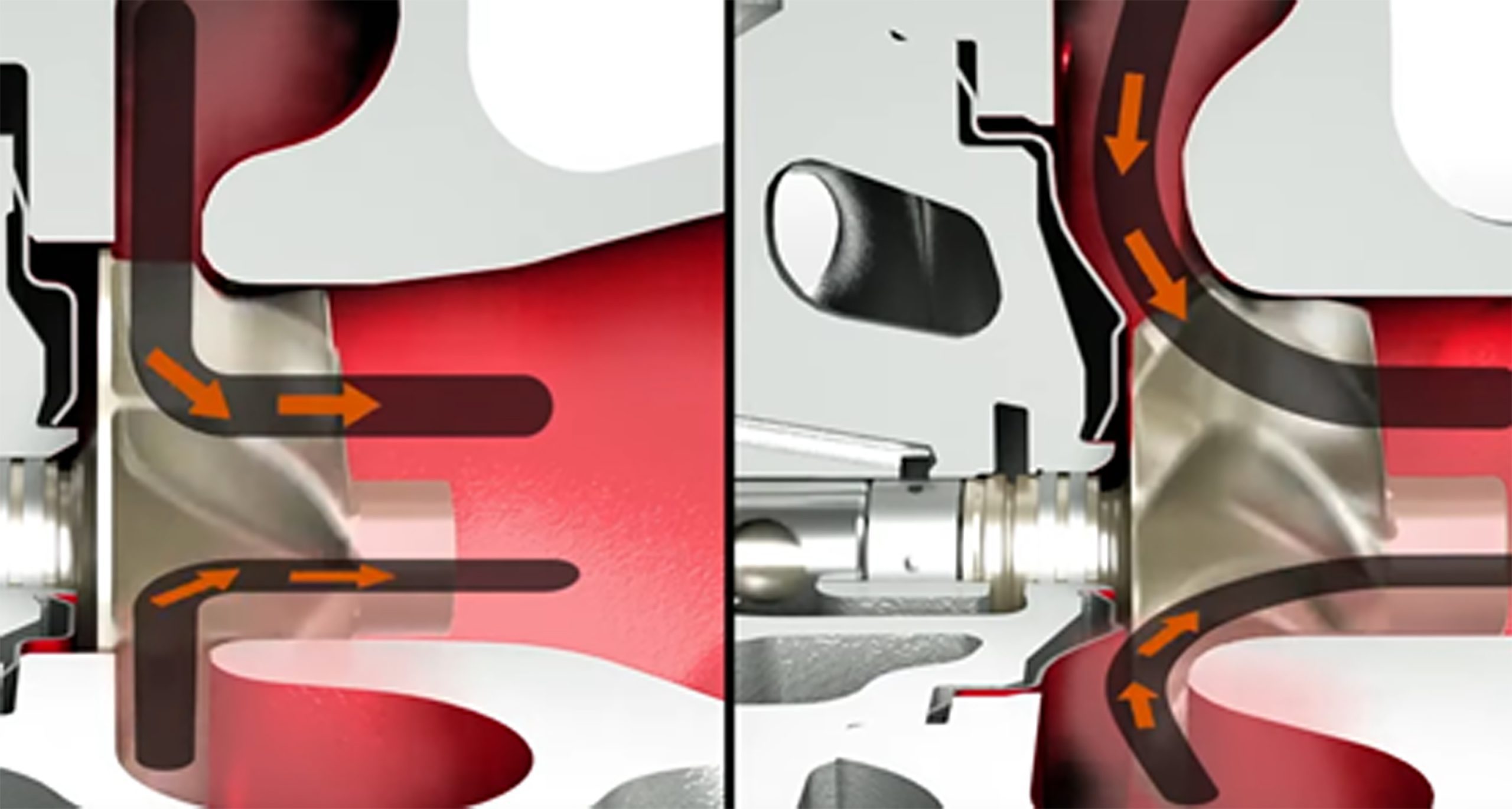 The increased compressor wheel size and improved design also improves the turbocharger's total airflow capacity. The trim of a compressor wheel affects performance by altering the airflow capacity. If all other factors held constant, a higher trim wheel will flow more air than a smaller trim wheel. Although the Continental compressor wheel trim is smaller compared to the IHI IS38, the wheel size and amount of blades is increased which allows more air flow having a positive effect on maximum performance.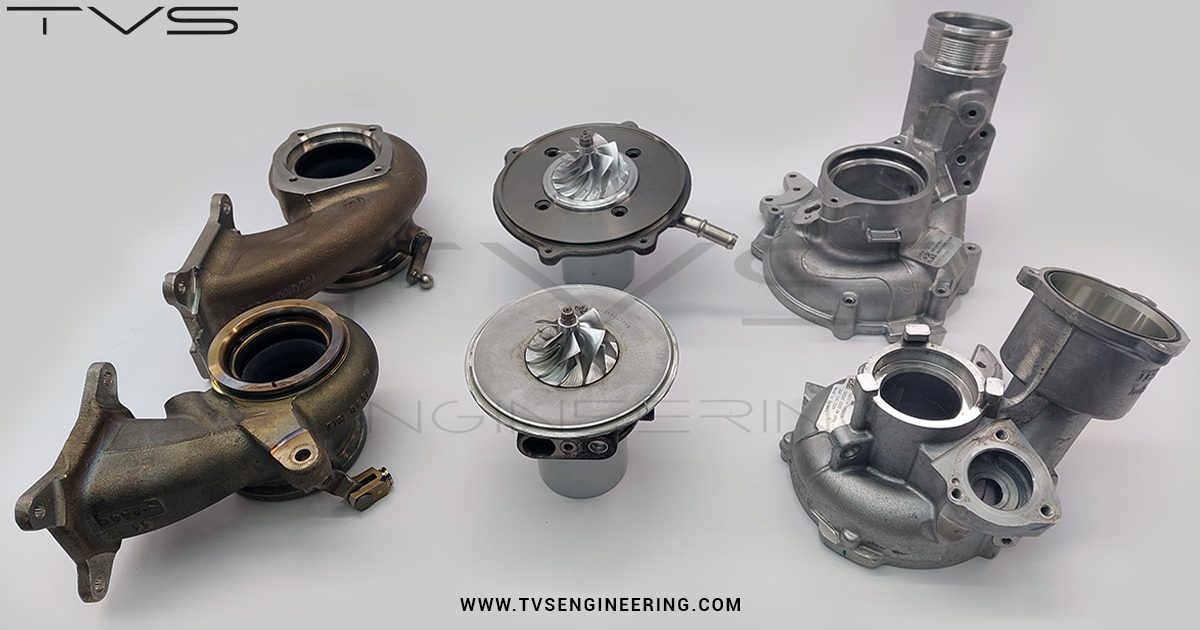 Another remarkable difference that requires explanation is the turbo speed sensor port and RPM sensor it is equipped with. This measures turbo shaft speed instead of only using a modeled based value as on the previous platform. TVS used data from this sensor during software development and created an extra software safety routine to prevent the turbo from overspeeding to ensure that maximum power is achieved without sacrificing reliability and durability.
Overall the new Continental Turbocharger a great step forward for all performance enhancement enthusiasts!