Background
Automatic transmission
Before the introduction of the DSG and multitronic gearbox automatics were only of the conventional multi-step automatic type. This gearbox basically consists of a torque converter (instead of a friction clutch) and planetary gear sets for fully automatic shifting operation. The torque converter is a type of fluid coupling which transfers the power and torque produced by the engine to the gearbox. In addition, shifting will be accomplished by hydraulically locking and unlocking a system of planetary gears.
For the requirements of high torque gearbox levels with corresponding ride comfort the conventional automatic gearbox still remains a suitable option. Over the years this gearbox type has been further developed to improve fuel economy, emissions, dynamics and comfort. In collaboration with transmission manufacturers as ZF Getriebe GmbH there are various automatic gearboxes designed and introduced within VAG group vehicles.
DSG TRANSMISSION MODELS
There are several DSG models available on the market. Select one of the models below to read more about services and products TVS Engineering offers or specific common problems and fault codes.
Overview Automatic gearbox models
In collaboration with transmission manufacturers as ZF Getriebe GmbH there are various automatic gearboxes designed and introduced within VAG group vehicles. Below a summary and brief description of these models.
AL420

AL551

AL600

AL651

AL950

AL951
The 6-speed AL420 was introduced in 2004 and replaces the previous 5-speed automatic gearboxes (01V and 01L) up to an engine torque of 450 Nm. Basically it differs from the AL600 gearbox in that the AL420 has a lower torque capacity and uses lighter duty components. A variant on the AL420 (0AT) gearbox was specifically developed for the Audi Q7 from 2007.
Identification: 09L / 0AT
Derivative from ZF 6HP19A/X
Gears: 6-Speed
Rated up to 500Nm
Examples: Audi A4 (B6, B7), Audi A6 (C6) and Audi Q7 3.6 FSI
To achieve better fuel economy and lower emissions with improved dynamics and responsiveness a complete new 8-speed automatic gearbox series has been developed by Audi AG in collaboration with ZF Getriebe GmbH. The AL551 and AL951 are the first representatives of this generation introduced during the launch of the Audi A8 (D4) in 2010.
Identification: 0BK
Derivative from ZF 8HP55AF
Gears: 8-speed
Rated up to 700Nm
Examples: Audi A8 (D4), Audi RS6 (C7)
The generation 6-speed automatic gearboxes is designed by Audi AG in cooperation with ZF to replace the familiar 5-speed (01V / 01L) automatic. During the introduction in 2002 two variants were available. A version supporting up to 450Nm (for 3.7 / 4.2L V8 engines) and a reinforced version supporting up to 650Nm (for 4.0 TDI V8 and 6.0L W12 engines). Since the introduction many modifications and new features have been incorporated into the AL600 gearbox. For example the hydraulic system have been adopted from the AL651 gearbox for the use in the Audi RS6 (C6) 5.0 TFSI BiTurbo.
Identification: 09E
Derivative from ZF 6HP26A61
Gears: 6-speed
Rated up to 700Nm
Examples: Audi A8 (D3), Audi RS6 (C6)
The AL651 was introduced in 2007 as the successor of the AL600 based on the second generation 6-speed automatic gearboxes developed by ZF-Getriebe GmbH.
Identification: 0B6
Derivative from ZF 6HP28AF
Gears: 6-speed
Rated up to 700Nm
Examples: Audi A4 (8K), Audi A5 (B8)
Within the VAG group a four-wheel drive version with the designation 09F (ZF 6HP32A) was already in use on the VW Phaeton. The AL950 was specifically adapted for use on the Audi Q7 with 6.0 TDI engine. With a torque capacity of 1000 Nm, the AL950 gearbox is the most powerful transmission in the 6-speed series developed with ZF.
Identification: 0BQ
Derivative from ZF 6HP32X
Gears: 6-speed
Rated up to 1000Nm
Examples: Audi Q7 V12 6.0 TDI
Seen from the exterior there is hardly any difference between the AL551 and AL961 gearboxes. Because the AL961 gearbox is rated for a maximum torque of 1000 Nm, most internal components of accordingly larger in size. The AL951 is specifically developed for the 4.2L TDI engines. All other engine configurations up to 700Nm are equipped with the AL551.
Identification: 0BL
Derivative from ZF 8HP90AF
Gears: 8-speed
Rated up to 1000Nm
Examples: Audi A8 (D4) 4.2 TDI
Automatic gearbox
Software optimizations
TVS Engineering has developed unique software solutions for several automatic gearboxes (Tiptronic) to achieve increased engine performance without any transmission problems.
First of all most automatic transmissions have torque limiters integrated in the TCU software. Instead of only raising torque limiters true specialism and knowledge is needed since exceeding the mechanical limitations of the gearbox components will cause instant damage. In addition we ensure that gear changes with increased performance remain smooth and strong due to increasing hydraulic system pressures.
The factory software from the latest automatic gearboxes is mainly focused on passing emission tests and lowering fuel consumption which results in  poor drivability and durability. Within TVS software shifting strategies are remapped to match (tuned) engine characteristics resulting in a more pleasant driving behavior and increased performance.
TVS TCU software for automatic gearboxes is for now only available at TVS Engineering / DSG Dokter HQ in the Netherlands. Contact us for the possibilities for your vehicle.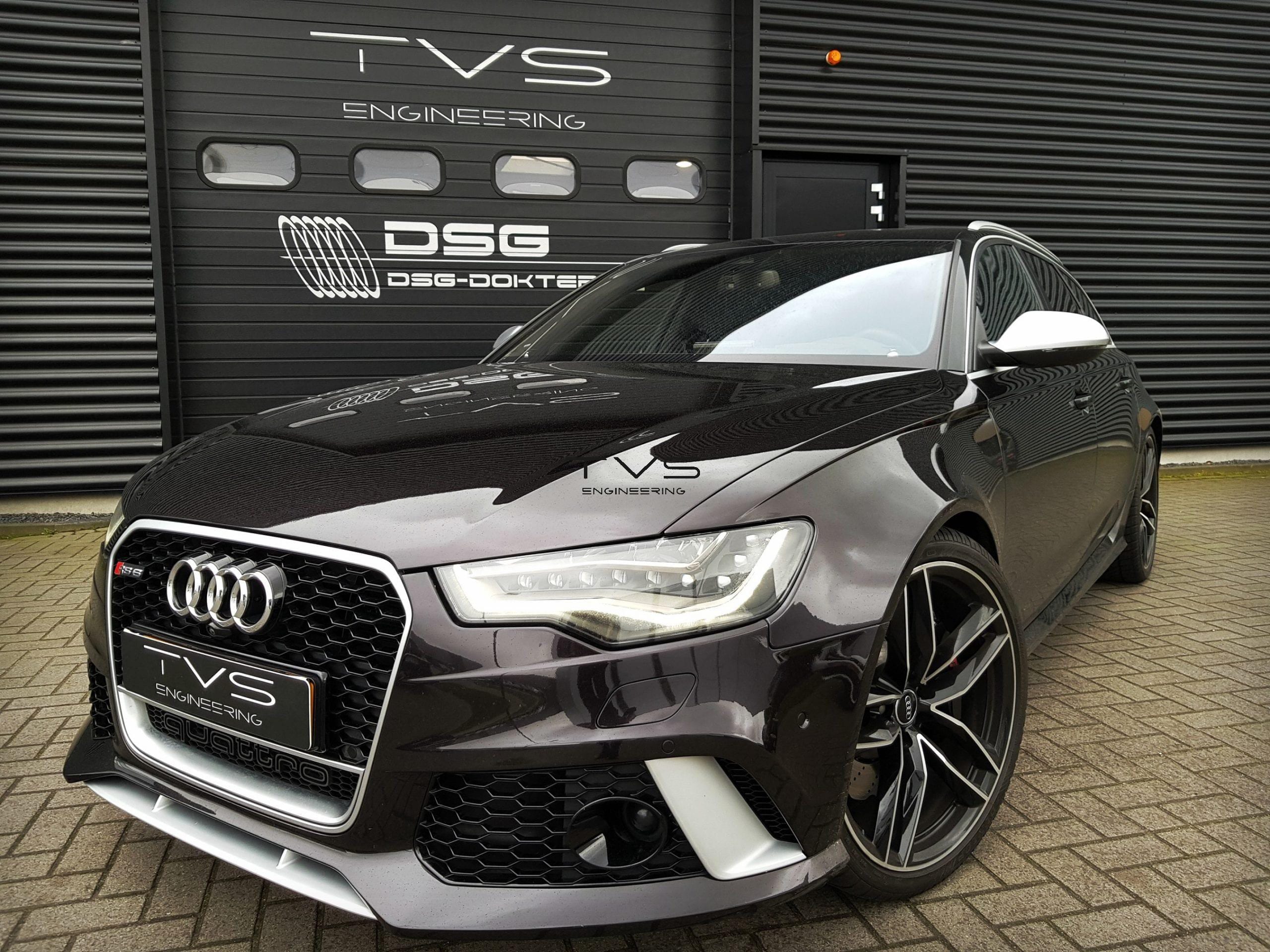 Select your vehicle
Customized solutions
Find your solution
Use the vehicle selector to discover which services and products TVS offers for your vehicle!
Engine software / chiptuning
Gearbox (DSG) software
Performance hardware upgrades
Repairs and services
Premium replacement parts